letsconnect
Administrator
Staff member
Joined

Jan 1, 2005
Messages

5,791
You may have noticed that we have a little green badge which says "Verified Dentist" in the user profiles of dentists posting on this forum. Whenever you see this badge, you can be guaranteed that the answer comes (or came) from an actual dentist.
---
We're always looking for dentists who are happy to answer questions in an easy-to-understand, phobic-friendly way on this board! You don't need to ask permission to answer questions here, so if you fancy chiming in, please do

!
Some of our "resident" dentists (both present and past):
In case you're reluctant to post here because you don't know who's going to answer your questions, here's some background info:
Gordon used to be Assistant (and acting) Clinical Dental Director at NHS Highland (in Scotland). He worked with both special needs patients and people with dental phobias. Despite his youthful looks, he recently retired. Gordon's hobbies include pizza (he's even got his own pizza oven!), walking the Highlands with his two doggies, playing the guitar, Mac computers and related gadgets, and spending time with his family and grandson (not necessarily in that order). He loves Tuscany and Merlot. Best of all, he's a fellow phobic (not of dentists, luckily for him - imagine being scared of yourself all day long! - but of fish. You've heard correctly.) You can
read an interview with Gordon here
!
---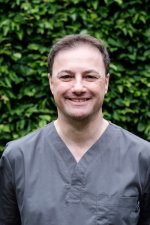 Lincoln Hirst (username:
drhirst
) practices dentistry at
Garden City Dental
(formerly "Beehive Dental Practice") in Welwyn Garden City, England. Lincoln qualified as a dentist as far back as 1988 (real photo or the marvels of Photoshop? Whatever the case may be, the result isn't half bad

). In his own words:
"Nothing gives me more satisfaction than helping dental phobics. I am happy to discuss your concerns on the telephone or by email prior to meeting."
Awww....

You can
read an interview with Lincoln here
!
---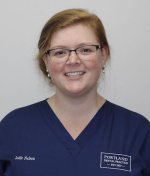 Jodie Nelson (username:
Jodie Nelson
) graduated as a dentist from the University of Glasgow in 2019. Before that, she was a teacher. But right from the start of her dental training, she had a special interest in making dental treatment accessible for her fearful and phobic patients, for example, by using complementary techniques such as CBT and hypnosis. Jodie works as an associate dentist in Ayrshire at
Portland Dental Practice in Kilmarnock
, Scotland.
Outside of dentistry, Jodie enjoys kayaking in the beautiful Scottish lochs that surround her, various crafts, and spending time with her young family.
---
Daniel Finkelman (username:
Dr. Daniel
) studied dentistry and psychology in Israel and moved to The Hague, Netherlands to treat people with dental phobia, using tender loving care. His hobbies include music and movies (and ice cream). In his spare time, he's embarked on a video project for helping people with their dental fears - you can find his
Treat Your Dental Fear Youtube channel here
. He would like to reach patients and encourage them to find a local dentist.
Read an interview with Daniel here
---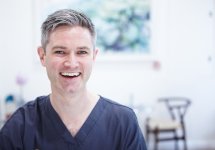 Niall Neeson (username:
Niall Neeson
- easy peasy that one) works at Boyne Dental in Navan, Ireland. Niall is "The dentist for people who don't like the dentist!". He has a real passion (and talent) for helping people who either avoid (or really dislike) going to the dentist. Outside of the surgery Niall is a massive music fan and enjoys football, the great outdoors and of course spending time with his young family.
Read an interview with Niall here
---
Mike Gow (username:
DrMike
) works in Glasgow, Scotland, at the
Berkeley Clinic
. Actually, the fact that both Mike and Gordon are from Scotland is one big coincidence - we found Mike through his website
www.whatfear.com
, also way back in 2004. Scotland seems to be our lucky place! Outside of work he enjoys spending time with his wife and 4 kids, trout fishing and exploring his family tree.
You can read an interview with Mike Gow here.