Joined

Mar 20, 2014
Messages

4
Have added a picture below!
I am kicking myself. I am 27 and have been ignoring the bleeding gums in my mouth for about a year. I have a fixed retainer on the back of my teeth, which has obviously stopped working.
I went to the dentist last week. He said my teeth were fine but that I should remove my brace. I have an appointment to get it removed next week, and will be visiting a hygenist the day after.
He did not mention the receeding gum line, which I did not spot until a few days ago.
Since then, I have been flossing, and using corsodyl and and the only bleeding in my gums is all around that one receeding gum line. That is slowly improving. The gap between my tooth and gum seems quite large.
Do you think this damage is reversible? Will I lose my tooth? I am prepared to have a gum graft if necessary.
I am freaking out!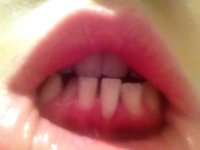 Thank you so much in advance for your advice!