dentistafraid
Junior member
Joined

Oct 2, 2021
Messages

12
Location

Mexico
Hello, this is my first time posting here.
Let me paint you a picture here: Since December last year I've been going on through several procedures stemmed from a bad crown placement. My dentist (whom saw me for over 10 years, placed a crown forcefully and destroyed the last molar on my right side).
5 weeks ago (imagine that, almost 9 months after the first procedure), the "crowned" tooth had to be pulled out because the bad crown had functioned as a hammer breaking the tooth apart. Of course the tooth was infected and had an abscess. They put me on antibiotics (A very very strong dose which I told the doctor was very dangerous for me as I've had Candidiasis on my gut on 2014. It's not as if I am antibiotic resistant. I'm just super sensitive to strong doses). But the doctor gave me the prescription anyway because the tooth had been impacted and broken, it would seem, for quite a while -since I've been complaining and none of the other dentists cared much for my soreness or pain. I trusted her and the infection was killed successfully.
Anyway, On my right side, I don't have two teeth (there is pictures below). One, I lost years ago and I was planning to get an implant when all of this happened. Then, there is the molar I lost because of the bad crown and then following up there is the destroyed molar that was rescued by a root canal.
Now, after the antibiotic course, my mouth started to burn so badly and I started to develop ulcers and red patches on my lower inner lip. The dentist who pulled out my tooth said it was herpes simplex. They put me on antivirals for 2 weeks. It didn't work. So I went to my general doctor and he said that I had a fungus infection. He didn't want to prescribe anything because I did not have cotton like mouth (but *I* could see red blotches and a white film on my mouth). My mouth burned and was HURTING so badly I begged him for something. He prescribed some nystatin and fluconazole (I think I'm misspelling the names in English) and I have to say my symptoms went away almost immediately. I added a mouthwash done with baking soda which made me be more comfortable (4 times a day, I do gargles with baking soda). I felt so good. I thought the nightmare was over. I was almost back to my old self.
I cannot
emphasize
how a TORMENT all this experience has been. I don't want anybody to touch me, even less a dentist. I'm usually crying or trembling, shaking life a leaf, when the dentist is working on my mouth because I'm so deadly afraid he or she would mess it up again. This is why I'm posting on this forum. I'm SCARED AND TERRIFIED.
HOWEVER, I keep getting this rash on my inner lower lip (before the burning on my mouth was generalized. everything hurt, now it is more focalized). When they told me I had fungus, the improvement on my mouth was amazing. I could sleep again and eat. I was told I would have sensitivity to very hot or spicy foods and that I should avoid it until everything was cleared up. I'm on my 6th day of treatment and the doctor said I should go up to 14 days. I've been very diligent on the treatment as I still have to go for partials. It's a bit hard to eat nonetheless because of all of this mess (created by the dentist) my bit is of course, uneven.
But the rash worries me so much. The doctors see me and they say "you are fine. this will be over soon" (please if you are a doctor, try to have a little bit of sympathy to your patience. We are dealing with the pain and consequences, not you!). But I come back home and the anxiety mounts up.
I don't know if Oral thrust due to a course of antibiotics causes this flare ups. Like I said I'm waaay better but there's still soreness, itchiness and a slight burning -now and then-. and then there's THIS.
comes on and off. I've never ever had this on my lower lip. not Canker sores or anything (I had canker sores on my inner lip at the beginning of the fungal infection and it was extremely red. Now it looks normal). I also have small white bumps on my lips. They are not open sores, and they do not hurt. but I never had them before the antibiotics. (I circled them with a light orange mark. Sorry if it is too faded). I have to stretch my lips so that even I can see them. But there were not there before.)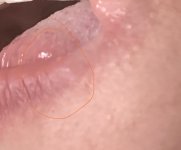 I know I will have to go AGAIN to the dentist for partials but the last time I went for an appointment (both the physician and the dentist alike), the red patches were not there

Is this the Candida die off effect?
Is the Oral thrust causing this? -this came up when the burning/itchiness started-
I had excellent oral health until the bad crown. I brush every day and I'm very mindful of my mouth in general. But this past months have been excruciating and filled with dentists that have varied in degrees of professionalism and now I am suffering with a fungus infection and *this* and I'm sick of it and my anxiety is OFF THE ROOF.
Seriously, I think I'm gong to die because out of this (I'm not joking).
Is this normal? is this expected from my fungal infection (most of the symptoms: burning mouth, itchiness, white film, the red patches, the little white bumps on lips, everything appeared after the antibiotics).
When I had Candida die off it was awful, I felt very very bad before I felt very good. Must add and
emphasize
that after the baking soda gargles you should now I felt almost back to normal. With the Antifungal drugs I felt very good after two days, but with the BKS gargles, GONE. a-ma-zing.
But, of course afterwards I got a sore throath and flue like symptoms, the redness back again. This could be Candida die off. I read around Reddit this is possible.
But the dentists have not comforted me or helped me out. When I asked they are like "you are almost out", "you are very anxious. don't fret. Calm down". That's all they say. As if it is my fault that I had this. I wasn't the one that messed up my teeth in the first place. I am very responsible and went to the professional every time I felt bad. They are not living with my pain or this "fungus" that calms down and flares up a bit and they can't tell me if this normal or not.
Believe me, if I'm posting this is because I had no choice and I feel cornered.
I think they do not care, which is kind of sad because I'm, after all, paying them. It's so dad.
I hope you can soothe my anxiety and help me out a little bit to understand what is going on because never in my life has this happened to me. Not the Oral thrust, or the red patches or going to the dentist to return back home to feel worse and worse.
And I just want this nightmare to be over. I am here thinking that this may be a symptom of something worse (anxiety) and I just can't take it anymore and knowing that I have to go to the dentist terrifies me. It's just torture. Pure torture.
I wish I didn't have to go to a dentist ever again.
thanks in advance.