It is highly unlikely that your dentist hasn't seen teeth as bad as yours. Here are some piccies of what dentists may see on a regular basis (if you'd rather not look, press the "back" button):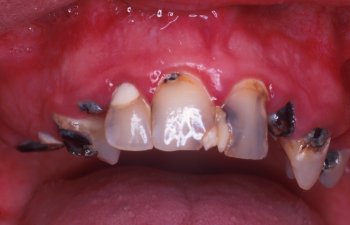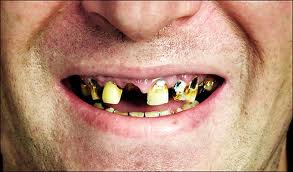 Back to Common Fears – Embarrassment
—-
Okayyy…. please ignore the rest of this page about bad teeth if you've arrived here from our website :wink:…
Bad Teeth? Rotten Teeth? Tooth Decay?
While I was having a look at the click-throughs to Dental Fear Central from a well-known search engine, it came to my attention that bad teeth, rotten teeth, bad tooth, and rotten tooth were some of the most popular topics through which people arrive at our website.
I also noticed that people had to trawl through hundreds of pages of results to eventually find Dental Fear Central! So I thought I'd put the words rotten teeth and bad teeth onto a web page, so that people can find us more easily. And this page seemed to be the most suitable, seeing how it doesn't have much in the way of text on it!
To make a long story short, if you are terrified of dentists and/or dental procedures, take a look at our Dental Phobia Website :grin:! The waffle below is just paying homage to the Great Google God.
More about rotten tooth queries…
It shouldn't have been a surprise that people are looking for information on bad teeth or rotten teeth or tooth decay, rather than more technical terms such as dental phobia… which only goes to show how easy it is to get things wrong for your audience. It should have been obvious that, if you have avoided dentists due to fear for a long time, terms such as bad teeth or rotten teeth might be an obvious choice.
In order to rectify the problem, rather than rewrite the whole website to include these words, I've decided to put this up as a landing page for anyone whose queries include terms such as badly decayed teeth, rotten tooth, bad tooth and the like. Besides, I really didn't want to litter the front page with words like bad teeth or rotten teeth which might turn people who are fearful of dentists off visiting our site.
Still reading??? Use the navigation bar at the top of this page, or in the sidebar, to read up on a topic of your choice which doesn't include the words bad teeth and rotten teeth 😉