Shady dental terminology explained (if you're lucky… thank God for Google!). And: what do those numbers dentists call out really mean? Find out about tooth numbering and dental charting systems!
Dictionaries and Glossaries
answers.com Dental Dictionary (Mosby's Dental Dictionary, Elsevier) A huge collection of dental terminology, not always explained in plain English.
bracesinfo.com Dictionary of dental terms Contains a good section on names of teeth.
Tooth Anatomy Not a dictionary, but a diagram showing different parts of the tooth.
Tooth charts
Palmer Notation Method This tooth numbering system (which is very popular in the U.K.) is simplicity itself – the mouth is divided into 4 quadrants (upper left, upper right, lower left, lower right), and teeth are numbered 1-8 going from the front tooth to the wisdom tooth in each quadrant: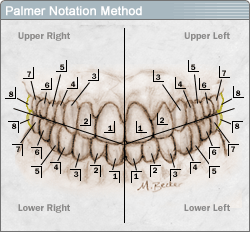 U.S. Tooth Numbering Chart ("Universal" system) The American system of numbering teeth from 1 to 32 can hardly be described as "elegant"… but this handy tooth chart explains it all:
FDI Two-Digit Notation system The first digit denotes the quadrant and the second digit, like the Palmer method, denotes the type of tooth: