Please note: the Dental Button no longer appears to be available as sales were rather sluggish! However, it is such a cool device that we decided to keep this legacy page for any engineers or inventors who might like to pick up on this concept.
Here are some currently available alternatives to The Dental Button.
And now for one of our favourite dentistry gadgets of all time… The Dental Button!
What is the Dental Button?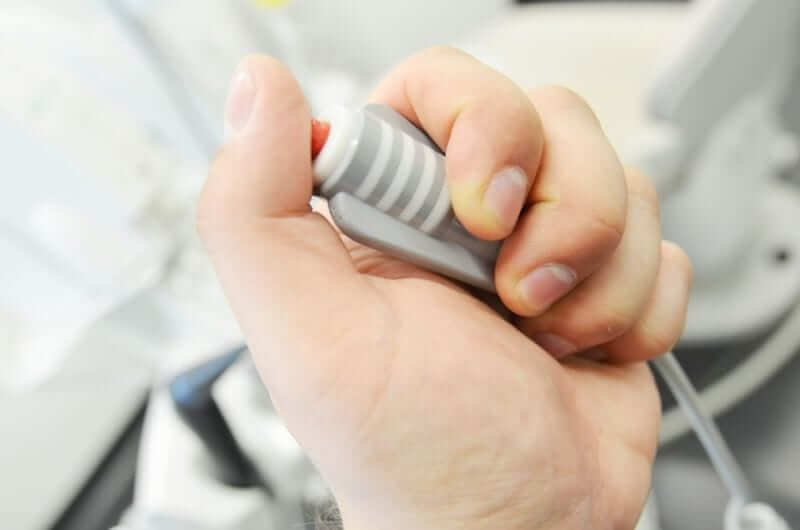 The Dental Button is a device installed in your dentist's (or hygienist's) chair which puts control of the handpiece ("the drill" or the ultrasonic scaler) into your hands!
Basically, you are given a button to hold. If you press it, the drill instantly stops, until you give your dentist the okay and he or she resets the system. How cool is that??
Isn't this dangerous?
From our message board:
I would be afraid it might cause the dentist to make mistakes or botch something up — if the dentist is in the middle of drilling something and the power cuts out, seems like it could cause the tool to slip and possibly damage your teeth or gums??
Believe me, there will be no problem with power being cut without warning …. what you don't want is the drill turning on without warning!! – Lincoln Hirst BDS
I can't think of any circumstances where it would be dangerous. Might mess up a crown prep I suppose, if someone stopped the handpiece at exactly the wrong point. – Gordon Laurie BDS
What have dentists said about the Dental Button?
3-day update:
I have now had the button installed for three days. Patient response has been very positive. No one has actually activated it yet. This is very disappointing as it was very expensive and I want to get some value for money!!

One thing I have noticed is that the patients look visibly more relaxed. Also, they tend to hold it loosely and not with their thumbs poised over the button as I was expecting.

I always demonstrate its use first and tell patients that I am not expecting them to need to use it but merely trying to give them a little bit of control which most people find helpful. I also assure them that I will not get annoyed if they actually use it!" – Lincoln Hirst BDS
1 1/2 year update:
Would not be without the dental button now. A few patients prefer not to use it but 99% love it.
8 year update:
I'll cry if my button breaks.
So what's the snag?
Yes… there had to be a snag, didn't there? Unfortunately, it looks as if the dental button has been discontinued ?. To the best of our knowledge, only a handful of dentists in the U.K. have it – among them Lincoln (see above) in Welwyn Garden City and Mike Gow in Glasgow. And it was expensive – around £1000.
You may also like: